As an SEO practitioner when I jump in on a new WordPress project or even take over a pre-existing website that was worked on by the web developers there is a list of plugins I look for to see if they were added or should be added to a website.
These plugins are not going to guarantee that your website is going to rank and deliver instant success. The plugins that are being shared provide you with a starting point to help with your on-page SEO strategy for your website.
WordPress is the most used platform in the world. It powers 37% of the web (June 2020)
Let's jump right into the list.
Yoast
Yoast has over 11+ million users who have downloaded their plugin and is one of the best when it comes to adding title tags for your pages and improving your overall on-page structure. Yoast offers a free and pro version.
This plugin is great for individuals taking the first steps in doing SEO for WordPress websites and even small business owners looking to do some of their on-page optimizations.
Check out my previous article on: How To Use Yoast for SEO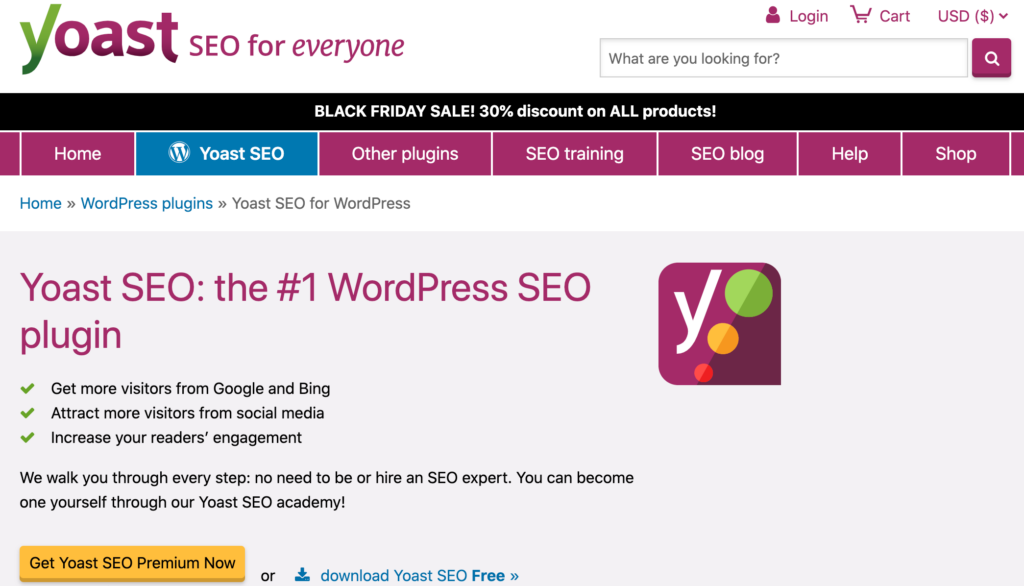 RankMath
RankMath is a fast and coming plugin for SEO that is making a strong name for themselves. This is one of the few plugins I typically recommend. What makes this plugin good is that you can do redirections and schema right within the free version of the plugin.
By testing and switching to RankMath I was able to remove 2 plugins from my website and client sites.
The Pro version recently got released and has additional features that can lead to even more plugins being replaced by RankMath. This plugin is looking to be your all-in-one SEO option that can help small business owners and SEO novices get an understanding of how they can help improve a website.
Being able to see keywords, analytics performance, and which posts are the best performing is just a small tip of the iceberg.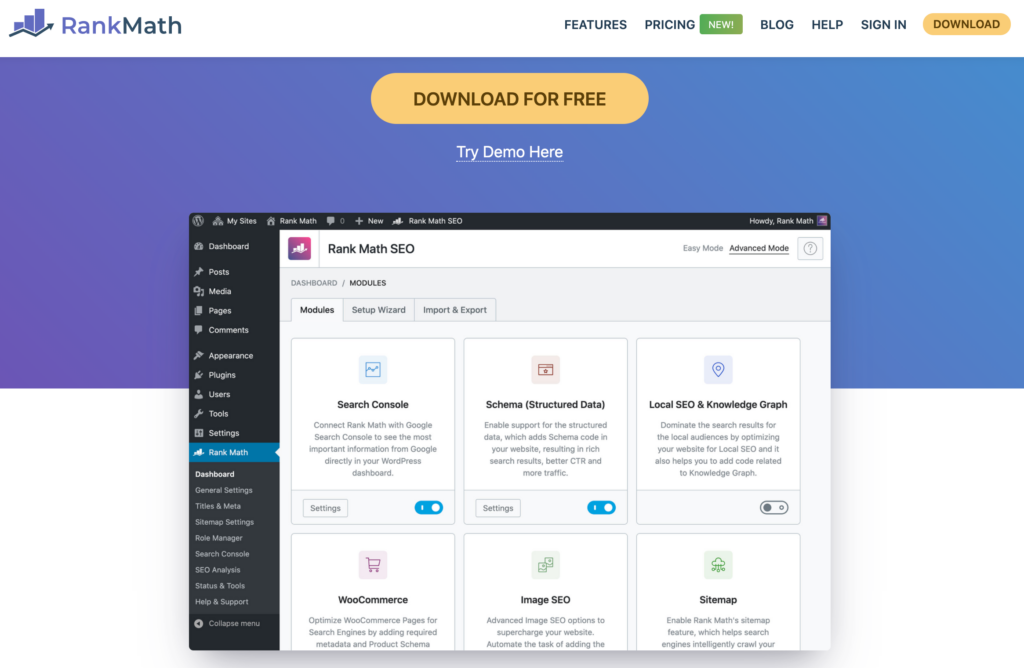 WP Rocket
This is one of the best site speed plugins you will find in WordPress. If you are looking to improve your overall website performance look no further than WP Rocket's caching tool.
This caching tool allows for your website to upload fast for all users who visit the website. IF you have returning users this leads to an even faster load time for your website.
As Google focuses on Mobile first-indexing it is important to have a fast loading and performing website that will not cause users to leave the site before it finishes loading.
Check out this post on a WP Rocket site speed test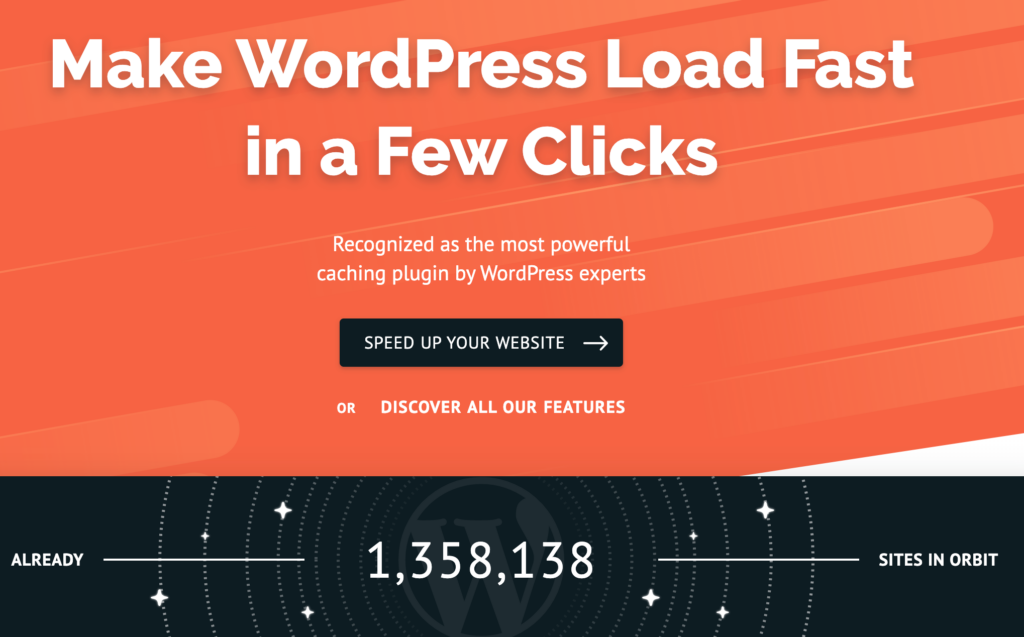 Monster Insight
If you are a business owner and reviewing your website traffic in Google Analytics seems scary, then Monster Insight is the plugin you want on your WordPress site. This plugin is perfect for all small business owners and personal bloggers. View analytics data based on your website traffic, devices users used to visit your website, and conversions.
Monster Insight provides you with an easy way to view this information right from the dashboard the moment you log into WordPress.
If there is one plugin I would recommend for a novice or small business owner is Monster Insight.

Redirection
If you ever changed a name or corrected the spelling of a URL this plugin is very helpful. As mentioned above in the free version of RankMath it is already included with their plugin but if you are using Yoast this is a handy plugin to have.
The redirection plugin allows you to track 404 errors and fix them so you do not have to hunt it down or find a surprise with the broken link. You can import redirects from other WP plugins.
After you do the redirect you can see how many hits are coming from the redirection you made.
This is important for any website because if a user lands on a broken page the likelihood that they will stay on your website is reduced and they may not come back. Implementing a redirection to the new page is going to help you tremendously especially with user engagement on your site.
Broken Link Checker
So you may be asking yourself how you find the broken links on your website. This Broken Link Checker is another favorite as it helps you find broken links without needing to use software to find them.
Once it has identified a broken link on your site it will notify you via the dashboard or email. This also is very helpful if you are linking to an external website that may have changed the URL or even removed the link.
And yes, if you do link to an external website the likelihood of them updating their URLs and changing it is high. Companies are always looking to improve their URL parameters for easier link sharing.
This plugin also finds broken images, comment links, and redirects that may no longer be pointing to the changed URL.
This is a great plugin for personal bloggers, nonprofits, and small business owners because you will typically not find broken links unless you hire an SEO company to run an audit and identify the full list of broken links on your website. You can find them and address them at your pace until you have them all fixed.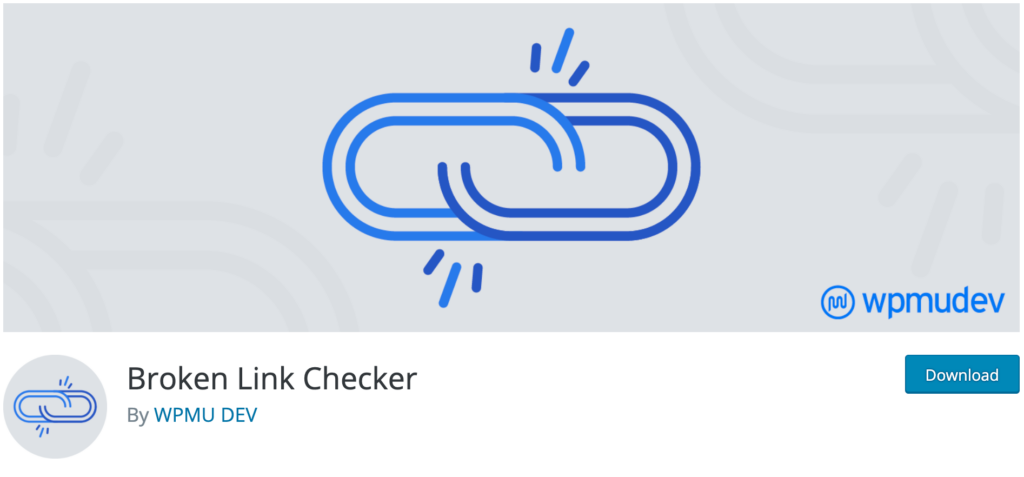 All-In-One Schema Rich Snippet
A rich snippet is a bit more advanced when it comes to SEO strategies but it can be beneficial to anyone selling products and services. The information implemented into the rich snippet is helpful for small businesses and bloggers to get additional data crawled by Google.
Rich snippets are very interactive with photos, star ratings, pricing, author, and many others to help you stand out against the competition. This plugin helps make sure the information on your page is accurately shared via the search engines.
The All-In-One Schema Rich Snippet can support the following content types:
Reviews – User reviews that are on your site.
Events – Shows upcoming events in Google search results.
People – who are discussed such as celebrities and personalities that are searched for.
Products – from eCommerce platforms
Recipes – can appear as featured snippets and show in search results.
Software Application – is to help better display your app details in Google search results
Video – that is embedded by Youtube and other platforms. This allows for the video description to get crawled.
Articles – Also known as blog posts to get crawled with regards to the relevant topic.
And many more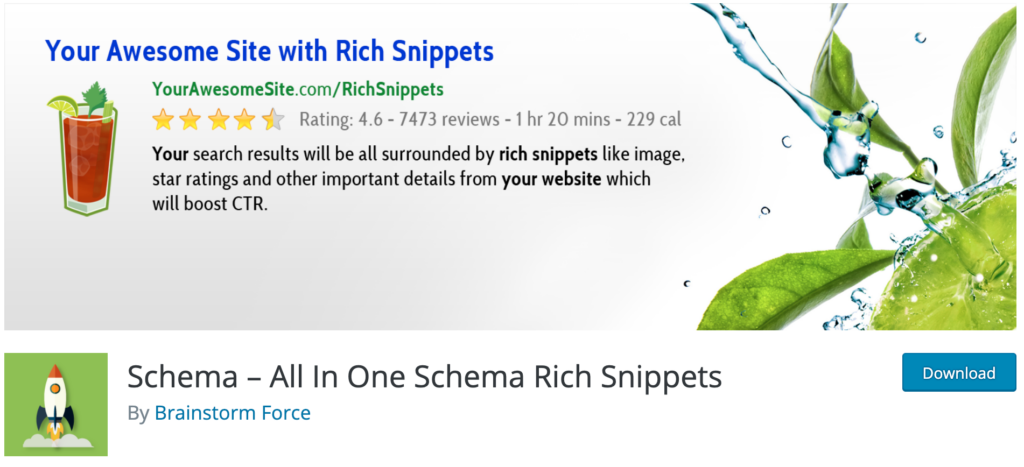 Sources:
The following two tabs change content below.
I am SEO Director at Solomon Admissions with over 10 years in the web and SEO industry. I have been working with WordPress since the time of the 5 minute setup for in-house companies and clients across B2C and B2B industries.
Latest posts by Carlos Rosado (see all)